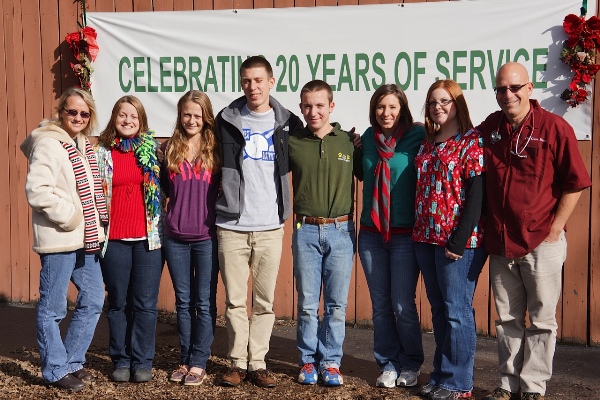 Left to Right: Heather, Bradley, Katie, Aron, Adam, Stacie, Melinda, Dr. Bercz (Not Pictured: Lesley)
Bradley Hrack-Hedzik, RVT is one of our full time head veterinary technicians. She has been full time with Paw Print Animal Hospitals since Feb. 2001. She is Ohio State registered and a current member of the CVTA and OVTA. Bradley is highly skilled in all aspects of patient care and is dedicated ot her love for animals.
Heather Tanner, RVT, RLAT, is one of our full time Head Veterinary Technicians and has been with Paw Print Animal Hospital since June 1992.

She is a current member of the CVTA and the OAVT.

She holds several degrees and is highly qualified in advanced procedures, such as traditional and laprascopic surgeries.
Stacie Kitchen is our full time Office Manager. After graduating with her Masters in Art History, she joined our staff in September 2011. Her love of animals and exceptional commitment to client relations ensures our front office functions efficiently.
Lesley Drummond is one of our Vet Assistants and has been with our clinic since September 2006. Lesley has a customer service background and enjoys the small office and personal attention we can give each client. Helping animals feel their best is one of Lesley's favorite reasons for working at our hospital.
Cathryn Gretler is a Vet Assistant currently attending the University of Cincinnati to become a Registered Vet Technician. She has been with Paw Print since September 2009. Her dedication to animal care and perseverant attitude make her a wonderful addition to our staff.
Melinda Sumner is a Vet Assistant who has been with our clinic since June 2012. She recently graduated from Brown Mackie College with an Associates degree in Veterinary Technology. Her compassion to animal care is a great asset to our clinic.
Aron, Adam and Katie: Dr. Bercz's three children, come in part-time after school and tennis to assist the clinic staff.