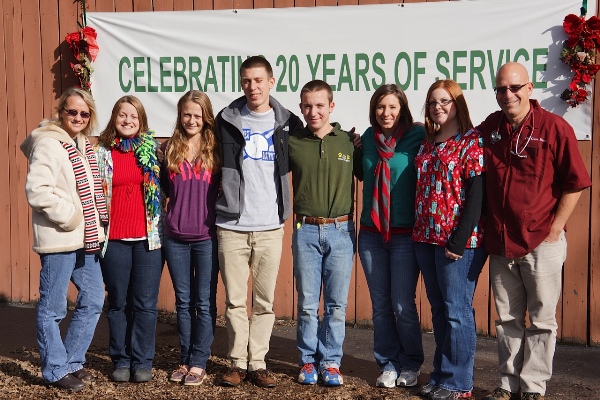 Left to Right: Heather, Bradley, Katie, Aron, Adam, Stacie, Melinda, Dr. Bercz (Not Pictured: Lesley, Heather B.)
Bradley, RVT is one of our full time head veterinary technicians. She has been full time with Paw Print Animal Hospitals since Feb. 2001. She is Ohio State registered and a current member of the CVTA and OVTA. Bradley is highly skilled in all aspects of patient care and is dedicated ot her love for animals.
Stacie is our Office Manager and joined our staff in September 2011. In addition to Paw Print, Stacie teaches Art History at Urbana University. In her free time, she loves to spend time outside with her dogs. Her love of animals and exceptional commitment to client relations ensures our front office functions efficiently.
Lesley is one of our Vet Assistants and has been with our clinic since September 2006. Lesley has a customer service background and enjoys the small office and personal attention we can give each client. Helping animals feel their best is one of Lesley's favorite reasons for working at our hospital.
Cathryn is a graduate of the University of Cincinnati as a Registered Vet Technician. She has been with Paw Print since September 2009. Her dedication to animal care and perseverant attitude make her a wonderful addition to our staff.
Alana is a Vet technician who has been with our clinic since January 2016. Alana is currently attending University of Cincinnati to earn her degree as a Registered Veterinary technician. In her free time, Alana volunteers at OAR and loves playing with her cats. Alana's love for animals makes her a great technician.
Carolyn is a Vet Assistant/receptionist who has been with our clinic since June 2016. In her free time, Carolyn enjoys gardening and walking her dogs. Her compassion to animal care is a great asset to our clinic.
Sarah is a Vet Assistant/receptionist who has been with our clinic since September 2016. Sarah loves cats and is looking to attend Veterinary school next year. Sarah's love for animals and versatility make her a great addition to our clinic.
Aron, Adam and Katie: Dr. Bercz's three children are all off at college, but will come in and help the staff over school vacations.